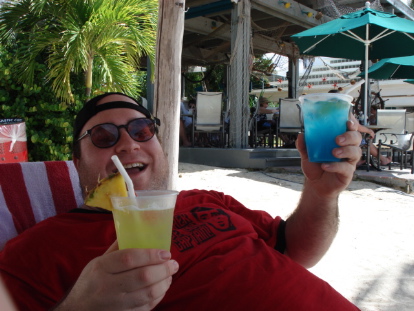 Jordan moved to New York at age 17 to study filmmaking at NYU. After working in development at Andrew Lauren Productions for a few years, he worked as an Entertainment Editor at the pre-New York Times owned About.com.
In 1998 he co-founded LeisureSuit Media with Kerry Douglas Dye and for a few years they ran the marginally profitable LeisureSuit.net.
In 2002 Jordan succeeding in reaching his goal of reading 52 books in one calendar year. Following up on this Jordan succeeding in reaching his goal of watching 365 films in one calendar year. That list is what, eventually, gave birth to this website.
In 2004 Jordan was dubbed the Ultimate Film Fanatic of the entire US Northeast by the Independent Film Channel and has the statue, and five thousand dollar check, to prove it.
In 2005 Jordan got his New York City Tour Guide's license and made money walking school groups through Chinatown and blabbing atop those annoying double-decker buses.
In Summer of 2006 Jordan began a project of watching and then reviewing every episode of every Star Trek franchise in chronological order.
In 2007 he started working as the movies editor of UGO.com. Then it got bought by Hearst, then it got bought by IGN. In late 2011 he stepped down and started working freelance.
Currently his reviews and writing can be read in the NY Daily News, Film.com, ScreenCrush, Badass Digest, the Times of Israel and StarTrek.com. He has also had work in PopularMechanics.com, SlashFilm.com, io9.com, Mental Floss, IFC.com, NextMovie.com and, quite possibly, some others.
His ten favorite movies are:
10. 'GoodFellas,' Martin Scorsese, 1990
9. 'The Right Stuff,' Philip Kaufman, 1983
8. 'Amadeus,' Milos Forman, 1984
7. 'Breathless,' Jean-Luc Godard, 1960
6. 'Duck Soup,' Leo McCarey, 1933
5. 'Koyaanisqatsi,' Godfrey Reggio, 1982
4. 'Raiders of the Lost Ark,' Steven Spielberg, 1981
3. '2001: A Space Odyssey,' Stanley Kubrick, 1968
2. 'Annie Hall,' Woody Allen, 1977
1. 'Casablanca,' Michael Curtiz, 1942
His cat is named Goober and a wife named Ann.