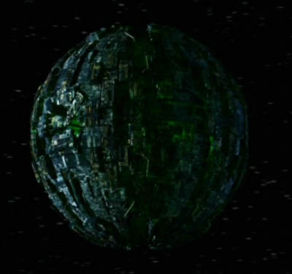 Seven of Nine's outfit is so tight. Seriously. Sometimes I forget.
Anyway, this time some mishigoss in the transporter fuses some of her Borg nanoprobes with The Doctor's 29th Century mobile emitter and BLAMMO – a super Borg drone of the future. He's like a bionic Borg and, despite B'Elanna's whining, is trained by Janeway and co. to be good.
So good, in fact, he must sacrifice himself. What a guy.
Also of note – he glows a little like he's in Tron and he has the sickest codpiece in all of Trek.