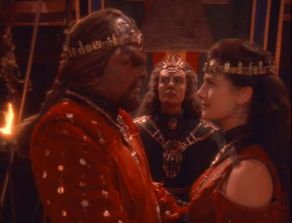 I kept myself together at my own wedding, but got a little misty-eyed at Dax and Worf's.
3 Comments »
Ha ha!

Comment by Ann — February 24, 2009 @ 7:02 pm

Best part? Julian visualizing himself killing Worf. "Kill Worf!"

Comment by Sheri — September 19, 2011 @ 1:08 am

Jennifer P. Posted on Hi Leslie, I really your blog. I will iirsnpe me. I went in for routine blood work last Friday and discovered that I have gained 5 pounds since last September. I work out a lot, but, I also eat out a lot. So, I have to cut back on dining out. Well, I look forward to reading your blog and being iirsnped. I\'m so proud of you.
RSS feed for comments on this post. TrackBack URI
Leave a comment
You must be logged in to post a comment.